Aratere's propeller 'not fitted properly'

NZ Newswire
14/12/2016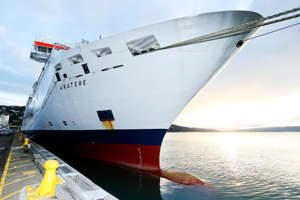 A propeller fell off the Cook Strait ferry Aratere because its blades weren't exactly even and hadn't been fitted properly to the shaft which drove it, an investigation has found.

The Transport Accident Investigation Commission has released its findings into the Aratere's loss of its starboard propeller in November 2013.
The shaft cracked in an area of wear, or fretting, just inside the bore of the propeller, it said.
"The fretting was likely to have been the result of a sub-optimal fit of the new propeller onto the existing tail shaft."
The ship had been lengthened by 30m two years earlier and had new propellers fitted.
The commission said vibration from a number of sources and uneven thrust between the individual propeller blades also caused bending forces to drive the fatigue crack through the tail shaft.
The uneven thrust resulted from minor differences in the average pitch of each of the four propeller blades, a result of the manufacturing process, but more so because they were damaged during service.
It also found a lack of documentation about the process of fitting the propellers and the final fit achieved.
KiwiRail agrees there should be tighter manufacturing tolerances for large fixed-pitch propellers but disputes the propeller wasn't properly fitted.
"We do not accept TAIC's view that KiwiRail did not follow the manufacturer's advice on the best way to fit the propellers," said group general manager Todd Moyle.
"The proposed method of fitting the propellers was impractical because of the very long shaft fitted. The method we did use to fit the propellers was discussed with the manufacturer, who accepted it as an alternative."