Arrest after incident on Wellington road

NZ Newswire
21/10/2016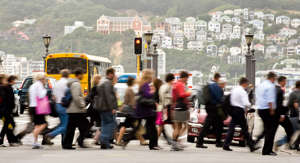 © Mark Coote/Bloomberg News Arrest after incident on Wellington road A man who allegedly sped the wrong way up a bus lane in Wellington and assaulted a man who had him on about it is in hospital under police guard.
The road rage incident on Friday afternoon in the capital city.
Police say they received many reports about a dangerous driver in a small red car on Willis Street at about 4:30pm.
The man allegedly sped northbound on a southbound bus lane and several pedestrians had to move out of the way to avoid being hit as he went through red lights.
He was stopped in traffic while trying merge onto Customhouse Quay when he was confronted by a man about the way he was driving.
He got out of his car and went into a nearby building and assaulted his critic.
Police arrived at the scene to find the offender with injuries as he left the building.
He will face multiple charges and is currently under police supervision in hospital.
The other man, who was still inside, has been taken to hospital for observation.
Earlier police said traffic would take an hour to clear.