Arrest in Riverhead quarry case

NZ Newswire
12/03/2017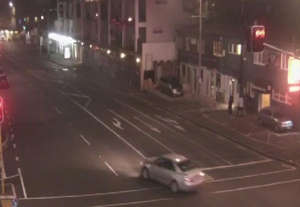 © NZ police Detectives reviewing CCTV footage spotted a silver or grey car similar to a 2008 Ford Mondeo at 1.18am on Sunday. A 59-year-old Onehunga man has been arrested and charged over the attack on a young woman in a Riverhead quarry two weeks ago.
The man was arrested at a house in Onehunga on Sunday afternoon and will appear in Auckland District Court on Monday, says Detective Senior Sergeant Kim Libby.
The man has been charged with abduction, wounding with intent to cause grievous bodily harm and assault with intent to commit sexual violation. He is being held in custody.
A 2008 Ford Mondeo has been seized and forensically examined.
The woman woke up in the quarry at Riverhead to find a baseball bat-armed man standing over her on the morning of February 26.
She didn't remember a significant period of time from being with her friends in Ponsonby, on Saturday night until she woke up in the quarry to find she was being attacked.
Police earlier released a photo of a black glove found at the scene, with the brand "Stanley" on it, along with other unspecified items and CCTV footage in a bid to find the alleged attacker.