Arson charge over parliament lockdown

NZ Newswire
26/05/2016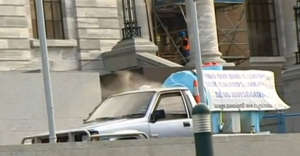 A man has been charged with arson following a protest that caused a security lockdown at parliament on budget day.
A suspicious farm ute with a tank on the back was driven on to parliament's forecourt just before midday Thursday, prompting a full-scale response from security and emergency services.
People were prevented from leaving or entering parliament grounds and a number of nearby streets were also cordoned off by police.
Police now say a man arrested after the incident has been charged with arson.
He will appear in Wellington District Court on Friday.
The lockdown delayed the arrival of Finance Minister Bill English at the budget lock-up, where he gives a presentation to journalists and analysts.
The vehicle was swept by police using detector dogs and was not deemed to be a security risk.
There was a second security incident later on Thursday afternoon and the rear entrance to parliament was briefly cordoned off.