Ashburton residents protest water deal

NZ Newswire
15/04/2016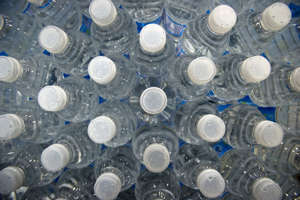 © Kevin Van Paassen/Bloomberg File image of water bottles. Ashburton residents have come out to protest the local district council's sale of property that will allow the owner to extract billions of litres of water from the local aquifer.
The council wants to sell the 10-hectare site, part of the Ashburton Business Estate northeast of the town, to a yet-to-be-named party interested in setting up a water-bottling plant.
But the deal has raised eyebrows, and accusations of a backroom deal to sell 40 billion litres of water over the next 30 years without proper consultation.
Nearly 35,000 people have signed an online petition calling for a cancellation of the sale.
On Saturday morning local group Bung the Bore held a march going from the Domain to the Ashburton District Council's offices, with more than 100 people chanting and carrying signs.
Among them was Green Party MP Catherine Delahunty, who said the deal let companies take more water while residents were being told to use less.
"A water bottling plant in drought-prone south Canterbury, where Ashburton residents are told to conserve water year round and where rural water supplies are contaminated with nitrate pollution, makes absolutely no sense," she said.
She said local iwi had not been consulted on the deal either.
"Tangata whenua have rights to water under the Treaty of Waitangi," she said.
But Ashburton Mayor Angus McKay says money from the sale will be used to offset rates and the council had followed the rules in putting the land up for sale.
The council says it cannot name the company because it is commercially sensitive but that while the landowner may take 45 litres a second from the aquifer underneath, 60 litres/sec of clean water must be returned from Ashburton's stock water system.
It wouldn't have any effect on the town supply or other irrigators, the council said.