Auckland at crossroads on port: Goff

NZ Newswire
4/06/2016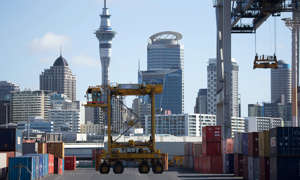 Auckland mayoral candidate Phil Goff says he's open to moving the city's port, but Northland MP Winston Peters wants Whangarei to pinch the entire thing.
Ports of Auckland says it is the country's most significant port operation but there has been strident opposition to its expansion plans.
Muriwai, the beach 40km northwest of Auckland, Manukau Harbour and the Firth of Thames have now been suggested as nearby alternative sites.
"The thing we should be reclaiming is public access to our harbour, which we have lost over the last hundred years," Mr Goff told TV3's The Nation on Saturday.
Another suggestion was somewhere in the Hauraki Gulf but he didn't have a preference without any careful analysis being done.
Auckland was at a crossroads and Wellington, Sydney, Vancouver and London had all transformed themselves by moving their ports and Auckland needed to plan ahead, he said.
Mr Peters has already suggested Whangarei's Northport, nearly 150km to the north, as the logical alternative despite it not being raised in a report.
It was already a deepwater port and the others will need to be dredged, he told the programme.
"It is au naturel the best thing we could do."
That was despite a rail upgrade cost being cited at $240 million.
But Chris Carr, director of the Carr & Haslam transport company, says it will cost $5 billion to move the port, which could remain in Auckland for another 50 years.
Northport was not big enough and there was not the rail infrastructure to cope with bringing cargo into Auckland from the north, he said.
Moving Auckland's port would be the biggest such exercise in the country's history.
In 2013, the government scotched a $525m plan to move the Picton ferry terminal to Clifford Bay on the east coast because the economics didn't stack up.