Auckland City FC crowned OFC champions

NZ Newswire
7/05/2017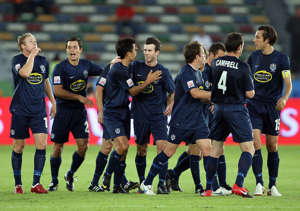 Auckland City FC are Oceania Champions League winners for a seventh straight year after dominating their two-legged final against Team Wellington.
The Auckland outfit dominated the second leg in Wellington on Sunday, winning 2-0 to clinch the final 5-0 on aggregate.
Team Wellington promised to play attacking football after being overwhelmed 3-0 in the first leg a week earlier.
However, they found Auckland City FC's defence impregnable.
When the goals finally came, they were both registered by the visitors - to Ryan de Vries in the 63rd minute and Emiliano Tade in the 76th.
Auckland City will mix it with the world's premier clubs at the FIFA club World Cup, something they have done every year since 2011.
This year's tournament is in the United Arab Emirates, with their first-up opponents recently confirmed as being host club Al Jazira in Abu Dhabi on December 6.
Team Wellington suggested they would be worthy contenders when beating the Aucklanders in the national domestic final earlier this month.
Both teams marched unbeaten through the Champions League group phase and the semi-finals but experience told in the decider.
Spanish defender Angel Berlanga was named player of the tournament, at the heart of an Auckland City FC side who based their success around a staunch rearguard.
They were also clinical in front of goal.
De Vries made no mistake when put through one-on-one against Team Wellington goalkeeper Scott Basalaj following a mistake from the defence.
Tade's goal was a scorcher, blasting the ball into the top right of the goal from the opposite corner of the penalty box.