Auckland Council agrees to extra America's Cup funding

Radio New Zealand
6/12/2018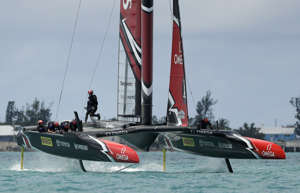 Auckland Councillors have voted to give an extra $14.5 million of ratepayer money to pay for cost over-runs for construction of the America's Cup village.
The council debated today whether they should come up with an extra funding for the event as the cost of wave breaks and dredging works turned out to be higher than originally expected.
The government promised to put $22.5m dollars towards covering the extra cost, which would bring its total contribution to $136m.
Download the Microsoft News app for your Android or iPhone device and stay up-to date on the news you care about most.
However, the Economic Development Minister David Parker said the government will only pay up if the council agreed to pitch in too.
Earlier in the meeting, the chair of the America's Cup event Tina Symmons said if the Auckland Council doesn't come up with the money to cover higher than expected costs the whole regatta could be put at risk.
The council also heard from Team New Zealand's chief operating officer Kevin Shorebride who confirmed two more challengers have been accepted for the event.
Mr Shorebridge said another couple of challengers could possibly still be accepted.