Auckland missionary dies in South Africa

NZ Newswire
24/12/2016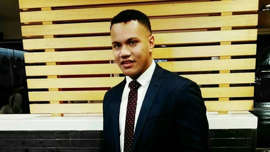 © Facebook Nofo-I-Lelenga Latu A missionary from Auckland has died in a car crash in South Africa.
Church of Latter Day Saints member Nofo-I-Lelenga Latu, 19, died on December 23 from injuries sustained in the crash, church spokesman Eric Hawkins says.
He was travelling with three other missionaries, who are being treated for minor injuries.
"We are deeply saddened to share news of the death of Elder Nofo-I-Lelenga Latu," Mr Hawkins says.
"We pray for the family and loved ones of Elder Latu. May they be comforted and sustained in their time of mourning and loss."
Mr Latu had been serving as a full time missionary in the church's South Africa Johannesburg Mission.
The Church has not released details about whether the other missionaries in the crash were New Zealand citizens or not.