Aust beat NZ 2-1 at Hockey Open in Darwin

NZ Newswire
1/06/2016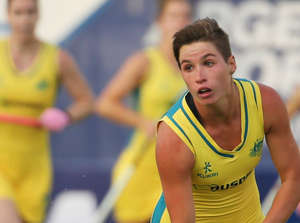 The Hockeyroos have beaten their arch rivals New Zealand 2-1 in their second game of the International Hockey Open in Darwin.
In a fast-paced match at the Marrara Hockey Stadium on Wednesday the Black Sticks put early pressure on Australia, finally scoring the first goal 21 minutes in with a penalty corner from Olivia Merry.
New Zealand had failed to convert three other penalty corner chances before that, while the Hockeyroos also failed on one penalty corner, missing the trap by a huge margin.
Australia evened out the playing field in the third quarter with a penalty corner from Georgina Morgan, following an injection from Kathryn Slattery and trap by Laura Barden.
Merry found herself undefended and flying down to the New Zealand scoring circle, however the ball was high and hit the post.
One minute into the final quarter with the scoreboard even, Emily Smith scored a cracker of a goal giving Australia the lead, and the eventual win.
Hockeyroos Head Coach Adam Commens said it really was a tough "game of two halves".
"I've lost count of the amount of times one team has dominated one half, and the other the opposite half," he said of the Australia-New Zealand rivalry.
"I thought tonight we were pretty average in the first half and New Zealand were exceptional. In the second half we played some really enterprising hockey and created a lot of chances."
Both teams had players celebrating 100 games - Kirsten Dwyer for the Hockeyroos and Pippa Hayward for the Black Sticks.
The Hockeyroos on Friday play India who drew 1-1 with Japan on Wednesday.