Australian cabinet to decide on Rudd's UN bid

NZ Newswire
27/07/2016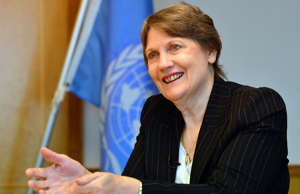 © Getty Images United Nations Development Programme (UNDP) Administrator Helen Clark. Helen Clark is about to find out whether she's going to face a trans-Tasman rival in the race to be the next UN secretary-general.
The Australian cabinet will decide on Thursday whether to back former prime minister Kevin Rudd's bid.
Foreign Minister Julie Bishop believes Mr Rudd is qualified because some of the other contenders, such as Miss Clark, are former prime ministers.
Prime Minister Malcolm Turnbull doesn't see it as a vital issue for his government.
"While I know it's a matter of great interest in the media can I just say this - with all due respect to Mr Rudd it isn't the most important issue confronting the cabinet of the Commonwealth of Australia at this time," he told reporters on Wednesday.
The UN Security Council last week held its first ballot to whittle down the 12 contenders and Miss Clark, previously reported to be a front-runner, didn't do well.
Reuters reported she ended up in fifth place, with former Portuguese prime minister Antonio Guterres leading the pack and former Slovenian president Danilo Turk coming in second.
Mr Rudd wasn't on the list because he hadn't been nominated, but there's no deadline for that.
The 15-member Security Council will hold a series of ballots, with low-ranked contenders expected to drop out of the race.
Eventually it will reach a consensus on a single candidate it can recommend to the General Assembly to replace Ban Ki-moon, who steps down at the end of the year after serving two five-year terms.