Axed Panthers face anxious NRL wait

NZ Newswire
6/04/2017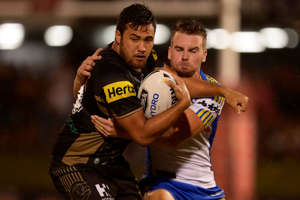 Penrith coach Anthony Griffin has declined to guarantee that his axed trio, including skipper Matt Moylan, will be recalled next week.
Moylan, Peta Hiku and Waqa Blake were dropped and will play in NSW Cup on Saturday after breaking Penrith's curfew following last week's NRL loss to Melbourne.
It's unlikely they will miss another match but Griffin on Thursday refused to confirm the length of the punishment.
"I can't tell you that. Only the players can tell you that, the ones that play Friday night and the three guys that have gone back to NSW Cup," Griffin said on Thursday.
The second-year Panthers coach stood by his decision to drop the three frontliners for Friday's crucial round-six NRL clash with South Sydney.
Installed as premiership favourites alongside Melbourne at the start of the year, Penrith will drop out of the top eight if they lose the match at Pepper Stadium.
"I made the decision for what's best for the club," he said.
"It's not a major issue as far as breaking laws or anything. But it's something that we take seriously within our own club. The boys have reacted very well."
The trio will take on Newcastle in the Intrust Super Premiership NSW in St Marys.
"They understood the reasons and to their credit they didn't play the victim. They understood that the decision they made wasn't the right thing by the team. That's the main thing," said Griffin.
"They trained very well with NSW Cup - I went to training last night - that's what they need to do."
The former Brisbane mentor said he didn't consider stripping the captaincy from Moylan, who will be replaced by two-game youngster Dylan Edwards with veteran Peter Wallace to fill in as skipper.
"If Matt wants to be captain of this club, I'm not going to stop him doing that. Maybe one day we'll look back and see this as a point that it helped him assume that authority," he said.