Baby Blacks play for rugby pride

NZ Newswire
19/06/2016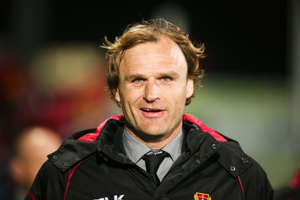 New Zealand are looking to salvage a little pride as they play-off for fifth against Wales in their final match at the junior world rugby championship in Manchester.
The defending champions, New Zealand suffered their worst result at the under-20 tournament after being eliminated at the group stage.
The Kiwis beat Wales 18-17 in pool play, but paid the price for an earlier 33-24 loss to Ireland.
Coach Scott Robertson has made five changes to his starting line-up, bringing in prop Sean Paranihi and loose forwards Luke Jacobson and Hapakuki Moala Liava'a.
Stephen Perofeta replaces first-five TJ Va'a while Jonah Lowe comes in on the left wing for Jordan Trainor.
New Zealand: Shaun Stevenson, Caleb Makene, Patelesio Tomkinson, Jordie Barrett, Jonah Lowe, Stephen Perofeta, Sam Nock, Hapakuki Moala Liavaa, Mitchell Jacobson, Luke Jakobson, Hamish Dalzell, Quinten Strange, Sosefo Kautai, Leni Apisai (captain), Sean Paranihi. Reserves: Asafo Aumua, Sean Stodart, Alex Fidow, Isaia Walker-Leawere, Marino Mikaele-Tu'u, Jonathan Taumateine, TJ Va'a, Malo Tuitama.