Bacon and egg reigns supreme in pie comp

NZ Newswire
26/07/2016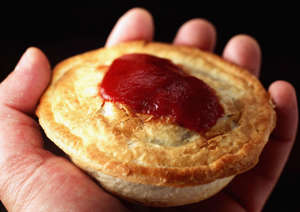 A national award was no pie in the sky dream for a Tauranga baker whose egg and bacon filled pastry has reigned supreme.
Patrick Lam walked away with $8500 after taking out the Supreme gold award in the Bakels pie competition, and topping the bacon and egg category.
His steak and cheese pie and Cointreau pear, apple and cherry cheesecake also rated well with the judges, scoring him a silver awarded and highly commended honour respectively.
This year judges sunk their teeth into pies in 12 categories, looking at ingredients, flavour, size and flakiness of the top pastry to ensure entrants met the stringent baking requirements.
Pak'nSave Petone in Wellington was the only bakery to win more than one category.
Baker Roger Cathro was rewarded with gold prizes for his steak and mushroom pie in the gourmet meat category, as well as catching the eye and tastebuds of judges with his potato top effort.
NZ'S BEST PIES IN 2016:
* Mince and Gravy - Angkor Wat Kiwi Bakery & Cafe, Napier
* Steak (Diced) and Gravy - Counties Bakeries, Pukekohe
* Chicken and Vegetable - Savans Bakery, Warkworth
* Gourmet Fruit - Dairy Flat Bakery, Auckland
* Gourmet Meat - Pak'n Save Petone, Wellington
* Vegetarian - The Bakery Wholesale, Wanaka
* Bacon and Egg - Patrick's Pie Group, Tauranga
* Mince and Cheese - Panmure Bakehouse, Auckland
* Steak and Cheese - Baker Bobs Bakery & Cafe, Tauranga
* Potato Top - Pak'n Save Petone, Wellington
* Commercial/Wholesale - Couplands Bakeries, Christchurch
* Cafe Boutique - Ginger Dynamite, Motueka
* Supreme - Bacon and Egg - Patrick's Pie Group, Tauranga