Badly injured woman found on road

NZ Newswire
8/05/2016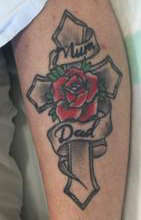 © NZ Police An unidentified woman found injured on the side of the road in Dome Valley has this tattoo on her left leg. A woman fighting for her life in hospital after she was found by the side of the road near Warkworth remains unidentified.
The woman, aged in her 20s, was found by a member of the public on Monday morning in Dome Valley.
She was airlifted to hospital in a critical condition and police are still trying to identify her and determine how she came to be injured.
Police say the woman is caucasian, of medium build and has a distinctive tattoo on the back of her lower left leg which is a cross with a rose and has the words mum and dad.
The scene is still being examined by officers.