Bainimarama takes swipe at NZ media

NZ Newswire
9/06/2016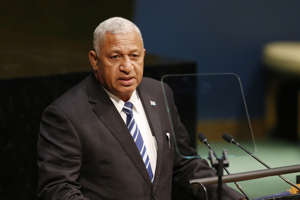 Fijian Prime Minister Frank Bainimarama has taken a swipe at the "hostile" New Zealand media during a speech at a formal dinner to welcome John Key.
Mr Bainimarama emphasised that he is now the "properly elected, freely chosen leader of Fiji" following elections in 2014 and he should no longer be seen as a "coup maker or dictator".
"There appears to be a substantial body of opinion in New Zealand, led by your generally hostile media, that what is happening in Fiji somehow lacks legitimacy, that somehow I lack legitimacy and my government lacks legitimacy," he said.
"This is simply not borne out by the facts. We have moved on, but it would appear that the New Zealand media has not."
Mr Key is the first New Zealand prime minister to visit Fiji in a decade. He will hold formal talks with Mr Bainimarama on Friday morning.