Banks no-show at paternity case hearing

NZ Newswire
14/06/2017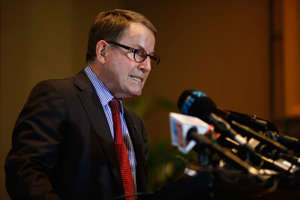 © Phil Walter/Getty Images The Independent Police Conduct Authority is set to issue a report on its investigation of former ACT leader John Banks. There's been a struggle in trying to serve John Banks with papers in a paternity case against him, a court been told.
Antony Shaw, 47, has asked a court to let him apply for a declaration that the wealthy former politician is his father.
But no one appeared for Mr Banks at the first hearing in the case in the High Court at Auckland on Thursday.
Mr Shaw's lawyer, Jacqueline Lethbridge, said while the former mayor had been served papers in April, he had never been officially given the court date.
An affidavit given to the judge said there had been "difficulties" in trying to get the documents to Mr Banks, and Justice Timothy Brewer ordered that all future correspondence could be sent to his lawyer instead.
Justice Brewer also asked whether there was any evidence Mr Banks had resisted getting a DNA test, saying it would avoid "enormous cost ramifications" of a court case.
Ms Lethbridge said Mr Banks had not cooperated with earlier attempts to get a test.
Courts cannot compel someone to give DNA in a paternity case.
The matter will return to court again later this month.
Mr Banks, a former cabinet minister and two-term Auckland mayor, has three adopted children.
Mr Shaw resides in Japan with his wife and son and has reportedly been pursuing the paternity issue since the early 2000s.