Banks to answer paternity case in July

NZ Newswire
28/06/2017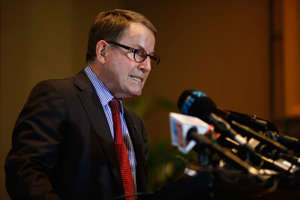 © Phil Walter/Getty Images The former Auckland mayor has until July 14 to file papers either supporting or opposing a paternity case against him, a High Court judge has ruled. Former Cabinet minister and Auckland mayor John Banks has again made no court appearance for a paternity case brought against him, but now has two weeks to file papers opposing or supporting the claim .
Antony Shaw, 47, has asked a court to let him apply for a declaration that the wealthy former politician is his father.
On Thursday in the High Court at Auckland, Justice Matthew Muir ruled Mr Banks had until July 14 to file papers in opposition or support of the claim.
The hearing would be able to proceed in Mr Banks' absence, Justice Muir ruled.
Earlier this month, Mr Shaw's lawyer, Jacqueline Lethbridge, told the court there had been difficulties in trying to serve Mr Banks with papers.
Mr Banks had not cooperated with earlier attempts to get a DNA test, she said.
Courts cannot compel someone to give DNA in a paternity case.
Mr Banks, a former cabinet minister and two-term Auckland mayor, has three adopted children.
Mr Shaw lives in Japan with his wife and son and has reportedly been pursuing the paternity issue since the early 2000s.