Barefoot Bushman attacked by croc in Queensland

AAP
22/09/2016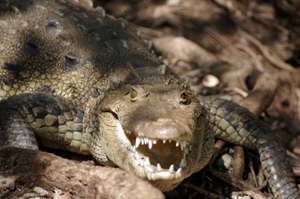 A Queensland wildlife park owner is "in high spirits" despite the likelihood he may lose part of his hand after being attacked by a large crocodile in front of tourists.
Rob Bredl, 66, was in the middle of a feeding demonstration at Bredl's Wild Farm at Bloomsbury, north of Mackay, when the animal struck just after noon on Thursday.
Known as the "Barefoot Bushman", Mr Bredl managed to break free from the 4.5-metre male croc's jaws, but suffered serious injuries to his left forearm and right leg.
Queensland Ambulance advanced care paramedic Heather Shields said bystanders helped stem his bleeding while paramedics rushed to the park.
"They'd done an excellent job at looking after him prior to us getting there," she said.
Mr Bredl was "extremely lucky" to have escaped, she added.
"He said it happened on land, it was attempting to drag him into the water but he's got away before he was submerged."
He was flown via helicopter to Mackay Base Hospital, where he was in a serious but stable condition and due to undergo surgery.
It is understood Mr Bredl could lose part of his hand, but the park said he was "up and walking", in a statement on its Facebook page.
"As we all know Rob he is in high spirits and he would say 'just another love bite and get on with the show'," staff wrote.
Koorana Crocodile Farm owner John Lever said Mr Bredl had worked with crocodiles all his life.
"He's one of the last persons I'd expect to be nailed by a crocodile, he's very experienced," Mr Lever said.
"Our hearts go out to him.
"It's the last thing you want to happen to anyone."
Mr Lever said it was the time of year crocodiles spike up because they become sexually active and territorial.
Workplace Health and Safety Queensland are making initial inquiries into the incident.
Mr Bredl has taken part in several documentaries including Killer Instinct and Deadly Predators.
His niece Karla Bredl suffered a broken pelvis and thigh bone when she was attacked by a four-metre saltwater crocodile at the Barefoot Bushman's Wildlife Park at Cannonvale in 1997.