Barrett keeps cool head amidst acclaim

NZ Newswire
19/11/2016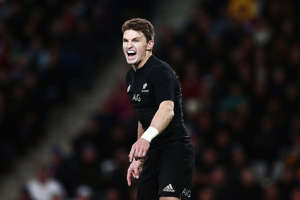 © Getty Images All Blacks playmaker Beauden Barrett was named the world's best player of 2016 last week, but has already turned his attention to Saturday's Dublin Test. All Blacks first-five Beauden Barrett has just been crowned the world's best rugby player of 2016, but you wouldn't know it from his demeanour.
The notoriously nonchalant playmaker beat out five other nominees, including teammate Dane Coles, to be named World Rugby Player of the Year last weekend in London.
Starting the 2016 Test campaign as super-sub, the Hurricanes ace has pushed his way into the All Blacks No.10 jumper with near-flawless performances for club and country.
Barrett has won every trophy available to him in the last 12 months, following up last year's World Cup with Super Rugby, Rugby Championship and Bledisloe Cup titles.
Yet when asked about the World Rugby gong on Thursday, the Taranaki native had to take a moment to remind himself what he'd achieved.
Even then, the acclaim was like water off a duck's back.
"I've forgotten about it this week," Barrett told reporters.
"It's just business as usual, it's not going to help me on Saturday."
The 25-year-old was below his brilliant best two weeks ago in Chicago, as the Irish surprised the All Blacks with a 40-29 victory and ended their 18-Test winning streak.
But after sitting out his side's 68-10 crushing of Italy, Barrett has been reinstated as first-five for the All Blacks' revenge mission against Ireland in Dublin.
The chance to atone for their clumsy showing on US soil has brought tensions to the boil in camp All Blacks, but not for Barrett, who was just focused on his performance.
"That's the beauty of rugby, you can just cross that white line and focus on playing footy for 80 minutes," Barrett said.
"For every player it's different, some really like to let it build up and I like to stay a little more clear."
Only goal kicking has let Barrett down in the black jumper this year, following up a 65 per cent Rugby Championship success rate with four from five in Chicago.
But coach Steve Hansen said he was unruffled by Barrett's inaccuracy from the tee, saying he had full faith in his playmaker and current understudy Aaron Cruden.
"If we talked about playing Cruden a couple weeks ago everyone would've said we're stupid, and now because we've lost one game everyone thinks Barrett should get chopped," Hansen said.
"Both of them will get game time."