Barrett rated among world's best finishers

NZ Newswire
7/06/2016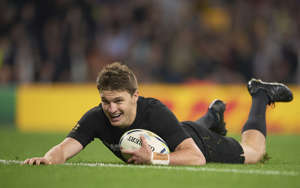 The All Blacks coaches say Beauden Barrett is underestimating his value as a bench impact player, believing he is among the best game-changers in Test rugby.
Assistant coach Ian Foster insists a three-way battle exists between Barrett, Aaron Cruden and Lima Sopoaga for the starting first five-eighth role following the retirement of Dan Carter.
Cruden is favoured to wear No.10 in the first Test against Wales at Eden Park on Saturday but Foster won't rule out the other candidates.
Sopoaga is enjoying another exceptional Super Rugby campaign with the defending champion Highlanders while Barrett has been brilliant at times for the Hurricanes.
Barrett has been vocal about his desire to win a Test starting berth, having made 28 of his 36 appearances off the bench, often in a fullback role.
Foster says Barrett hasn't been pigeon-holed as reserve specialist but says the 25-year-old should feel pride at being one of the best "closers" in world rugby.
"It's not bad being called a world class impact player, and we think he is. We think he's outstanding in terms of changing the game," Foster said.
"He wants to be world class in terms of a starting role and that's fine, we want him to drive for that. But the fact is that he's really good at both."
The myriad injuries late in Carter's career meant Cruden and Barrett have notched plenty of Tests between them while Sopoaga's lone appearance was memorable on South African soil last year.
Foster says the All Blacks are fortunate to have quality contenders ready to fill the boots of a modern great.
"All three are playing well and that's what's making it hard for us," he said.
"They've all come in with really good form and are confident."