Beetles fight weed in oldest NZ arboretum

NZ Newswire
29/09/2016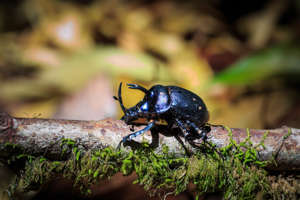 An army of 400 small beetles is being used to combat a major pest weed problem in New Zealand's oldest arboretum.
The beetles - specially bred by Landcare Research to tackle tradescantia, or wandering willie - have been released in the William Hall Arboretum and Walk at Thames.
The programme has been undertaken by Waikato Regional Council, Thames-Coromandel District Council and Forest and Bird.
Regional council pest plant officer Benson Lockhart says three types of beetle have been released, each attacking a different part of the plant - the leaf, stem and tip.
"These beetles have got a big job ahead of them, because tradescantia is thick throughout the arboretum," he said."
Mr Lockhart said the weed smothered the ground, preventing native tree regeneration.
It was also a nuisance for home gardeners and caused allergic responses in dogs.
Mr Lockhart said the pest was so widespread in New Zealand that manual or chemical control on a large scale was not feasible.
"That's where biological control, or biocontrol, comes in," he said.
"It uses a living organism to control another, and it's a method that has been used very successfully across New Zealand since the 1920s to safely control a number of different weeds."
Mr Lockhart said biocontrol agents took time to establish.
But he expected the beetles to support control work already being carried out in the arboretum, which dates back to 1872.