Benji-gate as Bennett backs Milford

NZ Newswire
23/03/2017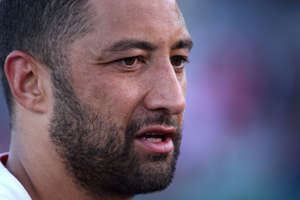 In extraordinary scenes, Benji Marshall has been confronted by Brisbane coach Wayne Bennett over claims the veteran playmaker is alarmed by five-eighth Anthony Milford's lack of professionalism.
Bennett admitted he asked Marshall if he had concerns after a Fox Sports program claimed the former Kiwi international was mortified that Milford took short cuts at training.
Bennett said he was satisfied Marshall did not make the comment before taking aim at the media.
"I was quick to jump on it. I confronted the player this morning who allegedly made the comment and he never made the comment - the journalist made it up," Bennett said.
"To be quite candid I am over a lot of things.
"I've lost the change room, I've lost my aura - it is just rubbish that you are making up there.
"It is just ridiculous. It's offensive actually."
The claims by Fox Sports' NRL 360 program come with Milford reportedly mulling over an upgraded $2.7 million Broncos deal.
While Bennett did feel he had to clear the air with Marshall, he defended Milford's work ethic ahead of Friday night's NRL home clash with Canberra.
"We don't have a problem with Anthony Milford in any shape, form or manner," Bennett said.
"I needed to talk to that player (Marshall) to make sure that comment hadn't been made.
"When you are at a workplace, in house stuff should stay there - we are no different.
"But the player assured me - and I believe the player - that he never spoke to the journalist and never gave him that information.
"But Anthony doesn't have a poor work ethic. He's not taking any short cuts."
Bennett said he hoped Milford finished his career at Brisbane after reports emerged this week that the NRL club had made the lucrative three-year offer to the playmaker.
"That's what we are aiming for. There'll be no 10-year deal though," Bennett said, referring to North Queensland forward Jason Taumalolo's mammoth Cowboys deal this week.
Marshall will slot back to 18th man for the Raiders clash after bench player Tevita Pangai Junior was cleared of an ankle injury.
Marshall made his Broncos debut off the interchange in last round's 14-12 loss in Melbourne after Pangai Junior was a last minute withdrawal.
The Marshall-Milford controversy overshadowed the lead-up to Brisbane's clash with the Raiders, in which hooker Andrew McCullough's celebrates his 200th NRL game.
"It is a big occasion for him and I am sure his teammates will support him as well," Bennett said.
BRONCOS v RAIDERS
* Canberra have registered just one win against Brisbane at Suncorp Stadium since 2005.
* Brisbane have won three in a row and six of the past eight matches against Canberra.
* Wayne Bennett is trying to avoid his 200th loss as Brisbane mentor; he has defeated a Ricky Stuart-coached side in eight of the past nine occasions.