Best honeymoon hideaway hotels in the world

HuffPost
5/05/2015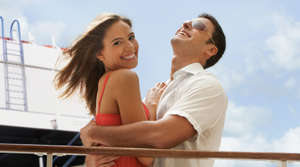 © Jose Luis Pelaez Inc/Blend I Begin married life with an unforgettable trip for two to one of GAYOT's top honeymoon hotels worldwide. Set in romantic destinations from playful Paris to peaceful Thailand, these luxurious properties offer an intimate feel and plenty of pampering extras that are sure to let your love blossom. Whether you prefer private city terraces, deserted white sand beaches or stunning Mediterranean villas, we've got the perfect accommodations for your post-nuptials getaway. 
1. W Retreat & Spa - Vieques Island, Vieques Island, Puerto Rico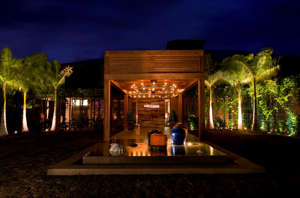 © AP Photo/W Retreat and Spa The exterior of the W Retreat and Spa in Vieques, Puerto Rico. This W retreat is just the right degree of laidback and lovely for a memorable honeymoon. Caressed by a white sand beach on Vieques Island off the eastern coast of Puerto Rico, it offers all of the brand's expected trendy amenities, along with everything needed for an idyllic escape.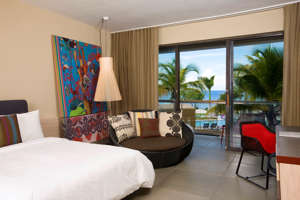 © AP Photo/W Retreat and Spa A guest room at the W Retreat and Spa in Vieques, Puerto Rico. Sexy, tropical accommodations, exciting Viequense cuisine at Sorcé restaurant and custom treatments at AWAY Spa are just the beginning. Plus, this property specializes in marriage services, from an oceanside suite for the ceremony to a special registry where you can design the honeymoon of your dreams.
2. Amanpuri, Phuket, Thailand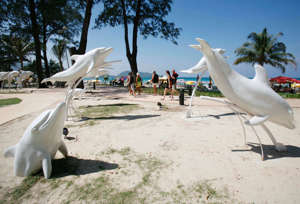 © REUTERS/Chaiwat Subprasom Tourists walks past dolphin sculptures at Patong beach in Phuket. In Thai, the word Amanpuri means "place of peace," and if you choose to honeymoon at this resort, that's exactly what you'll find. Situated on the grounds of a coconut plantation overlooking the Andaman Sea, the sophisticated property features a handsome collection of pavilions and villas connected by elevated walkways to a private white sand beach. The spa welcomes couples to begin the day with guided meditation in a hillside sala, followed by soothing al fresco massages. We suggest booking a romantic stay in an oceanfront villa, which comes with a private pool, outdoor living area and personal maid and cook.
3. Le Meurice, Paris, France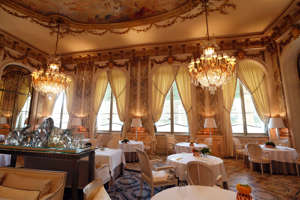 © REUTERS/Charles Platiau Paris is known as the City of Love, and the constant influx of new romantic hotels attests to this reputation. But it's an old favorite that wins our heart when it comes to choosing a honeymoon escape. Since 1835, Le Meurice has served as an example of elegance and grace, and makeovers by Philippe Starck and Charles Jouffre have only enhanced its timeless beauty. Love nests abound in this property, boasting private terraces, classic claw-foot tubs and stunning views of the Tuileries Garden. You and your sweetheart can toast to a long and happy life together with a glass of Champagne over dinner at the legendary Alain Ducasse - Le Meurice. 
4. Argos in Cappadocia, Uchisar, Turkey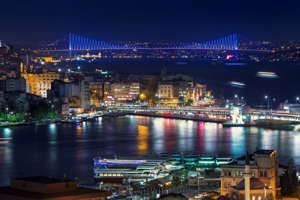 © Jon Hicks/Corbis Istanbul skyline at night. If you're looking for an out-of-the-ordinary honeymoon suite, we suggest shacking up in a room with a private cave pool at Argos in Cappadocia. This 51-room Turkish property once served as a monastery and a lodging house on the Silk Road before being transformed into a luxury hotel. Beyond your rustic, intimate cocoon, you can embark on a gastronomic journey through the flavors of the region at SEKI or enjoy a recital at the ancient Bezirhane concert hall. Views range from the dramatic volcanic rock face of Pigeon Valley to the resort's terraced vineyards, which supply its wine list.
5. Banyan Tree Seychelles, Seychelles, Africa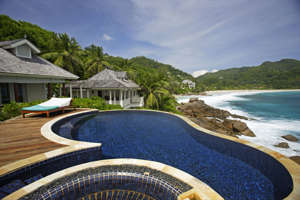 © REX/Denkou Images A Swimming pool, belonging to a hotel room of the Banyan Tree Hotel, Seychelles. Embraced by Intendance Bay with the Indian Ocean in the distance, Banyan Tree Seychelles is a secluded enclave of just 60 individual villas that blend colonial, plantation and contemporary styles. Peter Sellers and George Harrison once made their homes here, and the property ensures privacy. While the beachfront accommodations are popular, we like the intimate feeling of the hillside villas, featuring private plunge pools with spectacular views. For a romantic meal, sample island specialties at Au Jardin d'Epices or reserve a moonlit dinner right on the beach. As with every Banyan Tree property, there is a beautiful spa with a special selection of his-and-hers treatments. 
More on MSN Travel:
10 of the best honeymoon destinations
The 6 best cocktail gardens around the world
10 hotels that are perfect for solo travellers