Biden's assurance of unwavering support

NZ Newswire
21/07/2016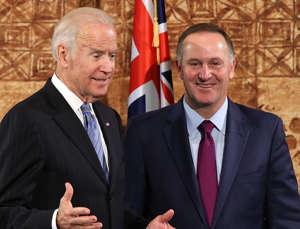 © Fiona Goodall/Getty Images John Key (R) and US Vice-President Joe Biden (L) address the media at Government House on July 21, 2016 in Auckland, New Zealand US Vice-President Joe Biden has ended his flying visit to New Zealand after giving an assurance of unwavering commitment to the region.
Mr Biden held talks with Prime Minister John Key on Thursday, marking the meeting by announcing the first US Navy ship visit since the anti-nuclear rift of the mid-1980s.
He left after a wreath-laying ceremony at Auckland War Memorial.
"The United States is a Pacific nation, we are not going anywhere, we are here to stay and we will continue to work closely with all our friends," he said after his talks with Mr Key.
He described the decision to send a ship to the Navy's 75th anniversary in November as "another expression of our close and co-operative relationship".
"Americans and Kiwis are cut from the same cloth, independent and tenacious," he said.
"We don't always agree, but we share the same basic values."
The US Navy hasn't sent a ship since New Zealand refused to accept the destroyer USS Buchanan in 1985.
The US, holding to its long-term policy, had refused to confirm or deny its nuclear capability.
Since then other nuclear powers, including Britain and France, have sent Navy ships.
The US still has a neither-confirm-nor-deny policy but this time it won't be asked the question.
The law requires Mr Key to be satisfied that a ship isn't nuclear-armed or nuclear-powered, on the advice of Foreign Minister Murray McCully.
The prime minister doesn't think there will be a problem with the US Navy ship.
He said he had signed 40 similar declarations for foreign ship visits since becoming prime minister.
US Navy surface ships no longer carry nuclear weapons.
Its submarines and aircraft carriers are nuclear-powered but most others are not.