Big quake a two-for-one strike: GeoNet

NZ Newswire
14/11/2016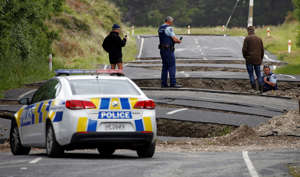 The severe 7.5-magnitude earthquake which hit north Canterbury may have been a combination of two different types of tremors, GeoNet says.
Two people are dead following the quake which struck just after midnight on Sunday.
It was the largest to hit New Zealand since the 7.8 Dusky Sound earthquake in 2009, says seismologist Sara McBride in a blog on the quake.
A GPS monitor at Cape Campbell in Marlborough moved two metres north during the around two minutes of shaking.
Large slips had closed State Highway 1 north and south of Kaikoura - one containing at least 1 million cubic metres of material.
"It looks like we've got two separate but related quakes going on. Our reports indicate that the combination of these two quakes lasted two minutes, with the most severe shaking at around 50 seconds.
"It looks like one was a strike-slip and the other was a thrust fault."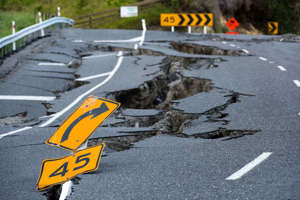 Strike-slip faults are where blocks of land mostly move horizontally, where as thrust faults have more vertical movement.
There have since been about 250 aftershocks and GeoNet scientists are working on what is most likely to happen next.
The most likely scenario (80 per cent and greater) is that it will be a normal aftershock sequence, where greater than magnitude-5 quakes will be spread over the next few months.
There was a 60 per cent chance there could be a magnitude-6 quake in the region in the next month.
The least likely scenario is a quake of about 7 hitting Marlborough and the Cook Strait in the next month.
"Earthquakes can be very upsetting," Ms McBride said. "Our scientists were also pretty shaken up but we have a job do to and that is to gather as much information as we can about these earthquakes."