Bill English says thanks to US crew

NZ Newswire
20/11/2016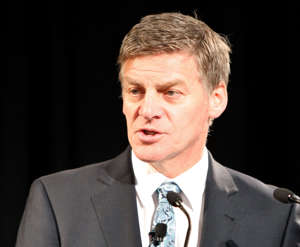 Finance Minister Bill English has told the crew of the USS Sampson the reassurance they provided to the community of Kaikoura was vital.
The US destroyer was in Wellington Harbour on a glorious day on Sunday after helping out in Kaikoura, along with ships from Australia, Canada and New Zealand, in the wake of the 7.8 earthquake last Monday.
Mr English said since he'd been in government he had been involved in a number of significant disasters, including the earthquake that killed 185 people in Christchurch and the Pike River mine disaster six years ago where 29 men died.
"On each occasion when these events happen we don't know what the needs are, we don't know how people will immediately react to disaster and the need to get on with the basics of recovery."
The Sampson was coincidently in New Zealand to celebrate the Royal New Zealand Navy's 75th anniversary and stepped up when disaster occurred, he said.
"You have been part of providing reassurance to the wider population that whatever the needs were in Kaikoura - which we couldn't know because we couldn't get there - we had people with the professionalism, the skill and the gear to make a big difference in a very small community."
The reassurance provided to Kaikoura was vital, he said.
Mr English said he was quite concerned about how the cut-off town would handle all the demands and the basic stuff that needed to be done like water and food.
"You provided that."
The crew assembled on the flight deck of the vessel with Mark Gilbert, the US ambassador to New Zealand, to hear Mr English speak.
"You need to know you are here with the warm welcome of the wider community of New Zealand, not just the government," he said.
Acting Civil Defence Minister Gerry Brownlee visited the US destroyer off Kaikoura on Saturday.
He told the crew of the first US Navy ship to visit New Zealand in more than 30 years "you have all become part of the history".