Binnie: Govt would never pay Bain compo

NZ Newswire
26/02/2017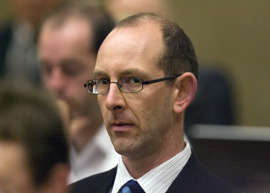 Police and the government wanted David Bain to continue carrying the stigma of being a serial murderer when his bid for compensation was rejected, according to former Canadian Supreme Court Justice Ian Binnie.
Five years ago he recommended Mr Bain receive compensation for the 13 years he spent behind bars before his 1995 conviction for murdering his parents and three siblings was overturned.
He believes then Justice Minister Judith Collins was influenced by police, and that an unwillingness to pay money was not the only reason, he told TVNZ's Sunday programme.
"I think the government was bound and determined not to pay compensation," he said.
"I think the police exert a very powerful influence, particularly on Collins... and I think the issue was not the money - they did not want to relieve David Bain of the stigma of being a serial murderer."
Ms Collins rejected Justice Binnie's claims.
Mr Bain was convicted in May 1995 of the five murders in Dunedin 11 months earlier.
The Privy Council quashed his convictions and he was acquitted in a retrial in 2009.
Last year the Government agreed to make an ex-gratia payment of $925,000 to Mr Bain to end the long-running compensation claim.