Black Caps must remain ruthless: Wagner

NZ Newswire
19/11/2016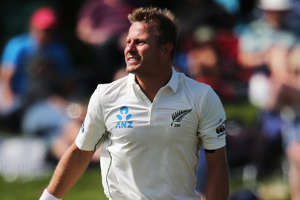 Neil Wagner wants to make sure New Zealand finish the job without fuss on day four of the first cricket Test against Pakistan.
The tourists will resume their second innings at 7-129 on Sunday, holding an overall lead of 62 on a Hagley Oval pitch providing few favours for batsmen.
Twenty-seven wickets have fallen in two days of contested cricket and that's why Wagner is keen they don't spend long mopping up Pakistan's last three wickets.
The Black Caps stuttered to 200 in their first knock and may not enjoy a chase of any substance.
The early scalp of Pakistan's last recognised batsman, Asad Shafiq, would virtually seal the outcome.
However, there is the possibility he and Sohail Khan could build on a 24-run partnership, of which the hard-hitting Sohail has contributed 22.
"We've got to go out and do what we did today again and do it even better," Wagner said.
"And then obviously we've got to work really hard to score the runs."
Wagner believes Pakistan's stagnant batting - they reached 100 in the 62nd over - was down to the pressure New Zealand's bowlers applied from the outset.
"You could easily go searching on a wicket like that and leak runs early but we didn't.
"We kept the foot on the throat and kept squeezing."
Pakistan coach Mickey Arthur says his batsmen deliberately restricted their shot-making after reviewing their first innings dismissals.
Attacking loose balls from the Black Caps was still part of the plan.
However, they were infrequent, providng little freedom for the likes of opener Azhar Ali, who took more than four hours to score 31.
"You kind of think that if you survive, survive, survive, you almost grind the opposition down and then you pick up some balls you can score off," Arthur said.
"But it obviously didn't materialise."