Black Caps play down slip catching woes

NZ Newswire
20/01/2017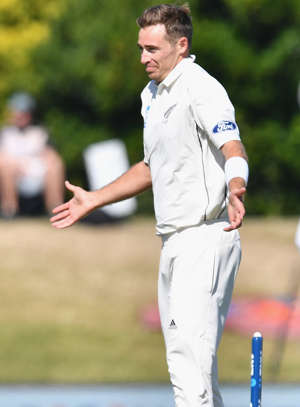 © Kai Schwoerer/Getty Images Tim Southee of New Zealand reacting during day one of the Second Test match between New Zealand and Bangladesh at Hagley Oval on January 20, 2017 in Christchurch, New Zealand Another bout of the dropsies isn't bothering the Black Caps, who insist better is to come from their under-fire slips fielders.
New Zealand butchered four straightforward chances in the slips cordon on day one of the second Test against Bangladesh at Hagley Oval.
Up to seven chances were spilled in the first Test win in Wellington, from fielders in several positions, with some of them also of the embarrassing variety.
Seamer Tim Southee, who took five wickets on Friday, reckons it is only a short-term problem.
"We set a high standard as a fielding group in all three formats, so it is disappointing," he said.
"It's not a skill thing, we know everyone can catch and has done, it's just a coincidence in the last couple of games we've put a few catches down."
Southee was one of the culprits while veteran first slip Ross Taylor made a hash of a simple offering from debut wicketkeeper Nurul Hasan, who was dropped three times.
More glaring was a clunky relationship between Taylor and second slip Jeet Raval.
Raval dived in front of Taylor to spill a chance from opener Soumya Sarkar on his way to 86. As if chastened by the experience, the pair later stood and watched a Nurul snick balloon between them.
Southee didn't think their problems were caused by the relative inexperience of three-Test batsman Raval.
"I don't think it's a breakdown of communication or that it's a new combination at all," he said.
"You don't get a lot of time at slip so you need to make a decision to go for it or hope the guy behind you is going to get it."