Black Caps ready to learn quickly

NZ Newswire
21/09/2016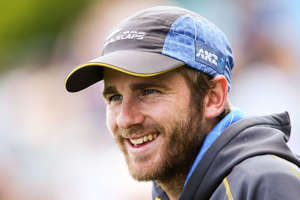 The Black Caps have done their homework ahead of the first Test against India in Kanpur, but skipper Kane Williamson still expects the first hour of play will test their adaptability and ability to learn quickly.
He admits New Zealand face a huge challenge - India have won their last three home series against Australia, West Indies and South Africa without losing a Test.
And he says while it's important not to over-think things, the Black Caps will need to adjust quickly when the first Test begins on Thursday.
"You certainly don't want to jump at shadows - you want to go into a match as educated as you can to try and apply your plans," he said.
"You do learn a lot in the first hour of a Test match, and it's important you adapt quickly in those conditions to get the best out of them."
Williamson says the wicket at Green Park Stadium is pretty much as expected, with conditions that will favour India's world-class spin trio of Ravindra Jadeja, Amit Mishra and Ravi Ashwin.
"It looks very dry, with not a lot of grass," he said.
"Coming into it and certainly watching previous series here, without much grass on the block the ball deteriorates quite quickly, and reverse swing and spin, naturally become big factors."
Williamson expects New Zealand's own spinners will prove a threat, despite their relative greenness, as the Kiwis hunt their first Test win in India for 28 years.
He said Ish Sodh and Mitchell Santner in particular had gained invaluable experience from the World Twenty20 in India earlier this year.
"We have got some exciting young talent and we showed that at the World Twenty20.
"The formats are different but we are hoping they can build on those experiences and they can play a bit part in the series."
Going by recent history, Williamson expects plenty of early action, and says the wicket will provide a challenge for both teams.
"In the last couple of years, if you look at the teams that have come here, things have happened quite quickly.
"I think playing positively is important, how our spin bowlers bowl will be important. We're hoping for a bit of reverse swing, and that certainly brings the seamers into it.
"It's important we adapt quickly, but some of the wickets that have been prepared in recent series have certainly been tough for both sides."