Black Caps sharpen for challenging summer

NZ Newswire
11/07/2016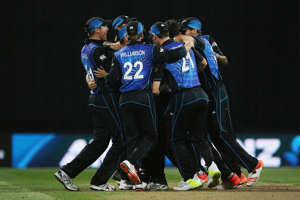 Black Caps coach Mike Hesson says an eight-day training camp in South Africa will be vital in bringing his players up to speed as they launch into a challenging nine months of international cricket.
Speaking just before the New Zealanders left Auckland on Monday, Hesson said the Pretoria camp would be key in making sure his players are primed for the first of two Tests in Bulawayo on July 29.
"All our players are at slightly different stages," he said.
"Some have been playing, some haven't played for a while and some are on limited loads so it's quite an individual-based programme."
Hesson said 12 of his squad had been, or still were, playing a combination of Twenty20 and first-class cricket in England.
"We've got guys in the Caribbean league, and we've got guys that have been in camps over here."
He had no worries about his players' fitness, and brushed aside concerns about new skipper Kane Williamson following reports Yorkshire had rested him for reasons of "mental fatigue".
"I've spoken to Kane many times, and he's fine and very much looking forward to getting over there."
Williamson, who replaced Brendon McCullum as Black Caps skipper, has captained New Zealand 36 times in limited overs cricket, but the Bulawayo matches will be the first test of his five-day leadership.
The Zimbabwe Tests also mark the beginning of an intensive nine months for the New Zealanders.
They travel to South Africa for Tests in Durban and Centurion in August, going on to play three Tests and five ODIs against India in September and October before returning to New Zealand for two Tests against Pakistan in November.
That's followed three Chappell-Hadlee ODIs against Australia in early December, a lengthy Bangladesh tour of New Zealand and three further ODIs against Australia before the Black Caps host South Africa for three Tests, five ODIs and a Twenty20 in February and March.