Block NZ open homes event draws protest

NZ Newswire
6/08/2016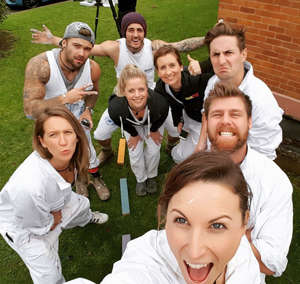 © Facebook.com Contestants of reality TV show The Block NZ. Protesters have turned up at open homes being held by reality television show The Block NZ: Girls vs Boys, but so too have hundreds of fans.
The free public open homes were held at the properties in the Auckland suburb of Meadowbank from 9am to 3pm on Saturday.
There were long lines of people waiting to see around the properties and to meet the teams doing them up.
Unite Union said its members were struggling to survive in the Auckland housing market and its "allies in the union movement" decided to call a protest for affordable housing at the site of the show.
"We have nothing against Block contestants, but we do think that it's crazy that so little is being done to make affordable homes for working people, yet night after night on primetime TV there is a show about property speculation," the union said.
Mediaworks has said the series has been reaching a larger audience every week than the previous season among all Kiwis, and its target demographic of viewers aged 25-54.
Competing teams Niki and Tiff, Emma and Courtney, Sam and Emmett and Dyls and Dylz were on site at the open homes event as their houses were inspected.