Blues pack ready to step up: Umaga

NZ Newswire
23/03/2017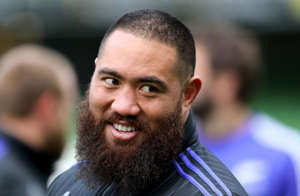 Coach Tana Umaga says the Blues are well aware what they'll be up against when they meet a combative Bulls outfit in Auckland.
They got a taste of it in last week's 33-24 Super Rugby loss to the Crusaders in Christchurch, and are expecting more of the same at QBE Stadium in Albany on Saturday.
The Bulls' strength at set piece time, and a devastating rolling maul are well known, but Umaga is confident his forwards, boosted by the return of All Blacks prop Charlie Faumuina from injury, are ready to step up.
"They want to get those things right because they realise if we can get good quality ball, then we've got a back line that can make use of it," Umaga said.
"We need to make sure those things are right against a very big South African side who thrive on that kind of ball in those areas."
A strong, physical side, the Bulls boast some dynamic runners and a good kicking first five-eighth in skipper Handre Pollard.
"They've got some X-factor in their side that we've got to be very much aware of," Umaga said.
That unpredictability is dangerous for a Blues team which has so far struggled for consistency.
After opening their season with a big win over the Rebels, the Blues have faded in successive losses to the Chiefs, Highlanders and Crusaders.
Last week, the Aucklanders meekly surrendered a 19-point lead early in the second half, allowing the Crusaders to run in 28 unanswered points to snatch the win.
Umaga says it's obvious that playing just 60 minutes of good rugby isn't enough.
"Confidence is a big thing for us, believing in our game for 80 minutes," he said.
"We've just got to keep playing. Teams are going to come back at us and we need to know how to handle that.
"We've got to start turning these games around for ourselves."