Blues see reasons for 2018 optimism

NZ Newswire
6/06/2017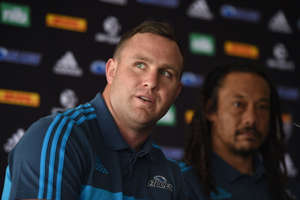 It's too little, too late for the Blues in Super Rugby this year but skipper James Parsons says the side isn't too far off the pace.
The Blues were all but ruled out of the 2017 Super Rugby finals two weeks ago with their loss to the Stormers in Cape Town, and then sealed their fate with a 16-16 draw against the Chiefs at a wet Eden Park.
They followed those results up with a late 34-29 win over the hapless Reds in Samoa last weekend, in a match that essentially counted for little.
They'll now look to restore lost pride against the British and Irish Lions on Wednesday, as they ponder another long pre-season.
"It's a massive game in players' careers but it's not going to launch us into next season - it's a good test of intensity," Parsons said.
"I don't think we're too far off - the big thing for us is to continue from that 60-minute mark, we've played some really good rugby up until then.
"It's just having that discipline to keep to our structures and systems when the pressure comes on, in those tight battles, and fight it out.
"We're playing better rugby but other teams are evolving as well."
In their first match on Kiwi soil, the Lions laboured to a 13-7 win over the provincial Barbarians and struggled to assert dominance across the field.
Parsons, who will line up at hooker for the Blues, said the Baabaas' high-intensity approach set the template for his side.
"If you can match them up front, it'll give us opportunities out wide," the 30-year-old, two-time All Blacks rake said.
"We've got to match them physically to earn the right to play our game and, once we do that, hopefully we've set a good platform."