Blues unlikely to lure Barrett: Umaga

NZ Newswire
30/06/2016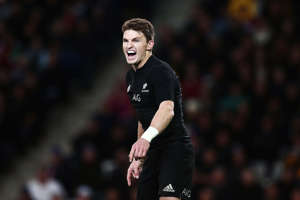 Coach Tana Umaga is realistic about the Blues' chance of luring Beauden Barrett north, admitting it would be surprise if the All Blacks star left the Hurricanes.
Barrett is coming off contact and the Blues have expressed interest in a player there will come up against in Wellington on Saturday night.
At the same time, Umaga concedes it's hard to see the 25-year-old first five-eighth moving from the franchise with whom he made his Super Rugby debut in 2011.
"We've shown interest and we'll just see how that goes," he said on Thursday.
"I don't think anyone is banking on it, that he's going to leave. He's such an integral part down there."
However, Umaga also said Barrett could opt for the path that up-and-coming Blues winger Tevita Li is taking and change Super Rugby clubs next season.
"Look what happened to Tevita - he wants to challenge himself and further himself in that way," he said.
"He [Barrett] might do the same. You just never know."
Li has signed with the Highlanders for 2017, when he will be up against All Black Waisake Naholo and Fiji international Patrick Osborne for a starting role.
Umaga said the Blues wanted Li to stay, but he also praised 21-year-old flyer for making a tough decision to leave family and go outside his comfort zone.
"We wanted him and everything is here for him," he said.
"To go outside of that, he's putting pressure on himself but I think it would be good for him. I take my hat off to him for making that decision."
Li has established himself as the Blues' starting left winger this year and he will again wear the No.11 jersey against the Hurricanes.
With three rounds to go, the Blues are seventh in the Australian group and eight points outside one of the five play-off spots, while the Hurricanes are fourth.
The match will be the first time Umaga returns to Wellington as a Super Rugby coach and faces a team he played more than 100 matches for.
While members of his family are Hurricanes fans and he has plenty of memories of his time in the capital, it will be all business on the night for him.
"I don't have any feeling about going down there other than I want to do the best for the Blues," Umaga said.
"This is the team that I'm part of now and this is the team I want to win."