Bobby calf basher's sentence appealed

NZ Newswire
27/10/2016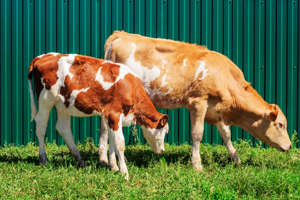 © Getty Images The Ministry for Primary Industries is appealing the sentence handed down to a slaughterman who admitted abusing bobby calves after being caught on video. The government agency in charge of animal welfare is heading to court in a bid to have a stiffer penalty imposed on a slaughterman who admitted abusing bobby calves.
Noel Pirika Erickson, 38, was sentenced in July to 10 months' home detention and 200 hours' community work after he pleaded guilty to 10 charges of cruelty or ill treatment of an animal.
He was captured on video shot by animal welfare group Farmsafe in August last year mistreating the animals, and the Ministry of Primary Industries brought the prosecution.
He admitted abusing 115 bobby calves over a two-day period at slaughterhouse near Te Kauwhata.
In the film, Erickson was seen throwing, kicking and beating the calves with blunt instruments.
In one incident he failed to ensure an animal was dead before hanging it on a meat hook, ignoring it while it was in distress.
Erickson was also caught on camera lifting one calf above shoulder height before driving it head first into the concrete floor.
A ministry spokeswoman confirmed to NZ Newswire that it was appealing the sentence imposed in Huntly District Court by Judge Merelina Burnett.
The appeal will be heard in the High Court at Hamilton on Friday.
The charges carry a maximum penalty of a $100,000 fine or five years' jail.
It prompted new guidelines from the ministry for the treatment of bobby calves but Farmwatch, in releasing new footage alleging mistreatment this week, said issues remained.
The ministry is investigating the latest video and its compliance manager, Gary Orr, said the behaviour was "deeply disappointing".