Bomb threats made to NZ schools

Radio New Zealand
24/02/2016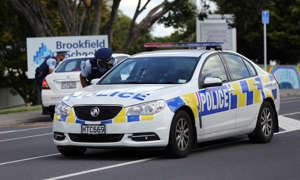 Six schools have received calls which police describe as 'of a concerning nature'. Police are in attendance at each school.
The schools are Logan Park High School in Dunedin, Wellington High School in Wellington, Tamatea High School in Napier, Burnside High School in Christchurch, Central Normal School in Palmerston North, and Brookfield School in Tauranga.
Police said they were responding to a number of incidents at different schools and were working with them to ensure the safety of students and staff.
Police said children and staff at Brookfield School on Miller Road in Tauranga and Tamatea High School in Napier had been evacuated.
Police are now searching the school buildings.
They say several schools around the country have received threats.
BREAKING NEWS: Brookfield School has been evacuated following a bomb threat this afternoon.... https://t.co/dbDTCbEChQ

— SunLive News (@sunlive_nz) February 24, 2016
Bomb threat to NZ schools. Hope it is just a hoax!

— ngaire mackinlay (@ngaimac) February 24, 2016