Boy's drawing of black dot on forehead led to horrifying truth behind 'headache that never went away'

Mirror
25/04/2017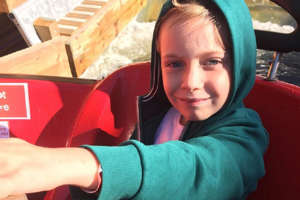 © Mirror Sketch of headache helped brain tumour diagnosis (Photo: The Brain Tumour Charity) A seven-year-old boy suffered months of headaches and failed medical diagnosis that left doctors baffled and his family at their wits end.
But months after medics told the Emre Erulkeroglu's family that there was nothing wrong with him, he drew an Etch-A-Sketch of his painful headache that worried his mum Tiffani so much that she pushed again to get help.
It was only then that a fresh brain scan led to the diagnosis of a life-threatening brain tumour.
Emre's first symptom came on Mother's Day 2015 when he woke and told Tiffani he had a bad headache.
"Within minutes he was lying in a drowsy state on the sofa but was screaming in pain every time he vomited. 

"We took him to A&E where his headache disappeared due to the vomiting and we were told to go home as they thought it was just a migraine."
Emre's early morning headaches persisted for several weeks.
Following an online search Tiffani came across a HeadSmart campaign which lists symptoms and warning signs for brain tumours in children.
She said: "He was displaying red flag symptoms that were on the HeadSmart website so I went to the doctors on several occasions."
Emre had a neurological examination after which doctors assured Tiffani that Emre was fine. 

"One doctor even told me to stop asking him daily if he had a head ache as I could be making him think he had one. So I relaxed slightly thinking I was making him worse and that it could be migraines."
However a few weeks later Emre drew a picture showing a black dot on his forehead and told Tiffani that it was "the headache that never went away."
Tiffani demanded an immediate referral and Emre was put on the four-month waiting list for an MRI scan as the paediatrician didn't consider it an urgent case.
"Whilst we were waiting Emre was becoming difficult to handle.
"He would have rages over nothing that lasted for hours. I had no choice but to ring the MRI department every day for weeks until I managed to get in a cancellation." 

Following an MRI scan Tiffani was told that he had a benign cyst on his pineal gland and that it wasn't the source of his problems. However once he was home he quickly deteriorated becoming sleepy, vomiting regularly and had severe headaches.
Tiffani took Emre back to hospital where, after further tests, she was told that Emre had a cystic tumour which was inoperable.
Emre has since had a lumbar puncture, an endoscopic third ventriculostomy and has been placed on watch and wait.
"It took three months of me pleading to get a diagnosis but he's here, stable and getting on with life."
Now the family are speaking out in support of HeadSmart, a campaign run by The Brain Tumour Charity, to raise awareness of the signs and symptoms of childhood brain tumours.
HeadSmart has already helped cut the average diagnosis time for a childhood brain tumour in the UK from more than 13 weeks to 6.5.
A new drive has begun to bring that figure below four weeks, in order to save lives and reduce the long-term disability caused by childhood brain tumours.
It will focus closely on healthcare professionals, parents and teenagers in a bid to ensure young patients with possible brain tumour symptoms are referred for specialist help as quickly as possible.
Emre's mum, Tiffani, said: "We know from our own experience how important it is for doctors and parents to recognise when a child might have a brain tumour.
"HeadSmart has had an impact already but there are still too many people out there who don't spot the warning signs."
"I can't thank the HeadSmart campaign enough for allowing me to push on with the diagnosis."
The HeadSmart campaign, which includes pocket-sized symptoms cards and a website, lists the warning signs of a brain tumour in babies, children and teenagers.
These include vomiting, balance problems and unusual eye movements.
Newly-added symptoms, after a review of all of the evidence showing the most common signs of childhood braintumours, include increasing head circumference in under-fives and loss of vision across all age groups.
The new campaign also includes an icon, nicknamed Sam.
© Provided by Trinity Mirror Plc Emre in hospital being treated for his brain tumour (Photo: The Brain Tumour Charity) Each of the ten key childhood brain tumour symptoms is represented by Sam in a different, easily-recognisable form.
Hayley Epps, campaign manager for The Brain Tumour Charity, said: "Brain tumours kill more children in the UK than any other type of cancer. HeadSmart has two aims: to save lives and reduce long-term disability by bringing down diagnosis times.

"Relaunching the campaign will help us to achieve those goals by alerting more healthcare professionals, parents and young people to the signs and symptoms of the disease.
"Emre's story shows very clearly why HeadSmart is so important. We are very grateful to his family for their support."
HeadSmart is run as a partnership between The Brain Tumour Charity, The Children's Brain Tumour Research Centre and the Royal College of Paediatrics and Child Health.
Brain Tumour warning signs:
The most typical symptoms of brain tumours in children and young people include:
· Persistent or recurring vomiting
· Persistent or recurring headaches
· Balance / co-ordination problems / walking problems
· Blurred or double vision
· Poor balance and co-ordination
· Abnormal eye movements
· Abnormal head position
· Fits or seizures
· Behavioural changes, especially tiredness
· Increasing head circumference in babies
· Delayed puberty in teenagers
For more information on the signs and symptoms go to: headsmart.org.uk or thebraintumourcharity.org