Boyd: Lions the Super Rugby team to beat

NZ Newswire
8/03/2017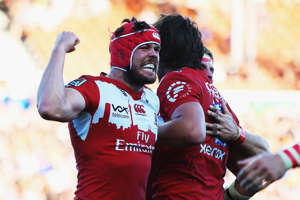 All roads to this year's Super Rugby lead through Johannesburg.
That's the assertion of Hurricanes coach Chris Boyd, who nominates the Lions as the team with the inside running to qualify first for the play-offs and secure home advantage.
There are two reasons why the South African outfit, who the Hurricanes beat in last year's final, will finish top of the tree, Boyd said.
Firstly, they have a generous draw.
While the Kiwi teams face each other in multiple bruising contests, the Lions won't face a single team from the New Zealand conference, in another quirk of the lop-sided competition structure.
Secondly, as last year showed, they're a fine team, Boyd added.
"I'd be very surprised if the Lions don't qualify top of the competition. It means somebody's going to have to go to Africa to stop them winning Super Rugby this year," he said.
Like the Hurricanes, the Lions have notched two points-laden wins to kick-start 2017, pipping the Cheetahs 28-25 in Bloemfontein and the Waratahs 55-36 in Johannesburg.
The only difficulty the Lions might face in the play-offs will be that they won't have experienced the intensity of a Kiwi side up until then, Boyd said.
However, he's sure the Lions will have learned from last year's near miss, just as the Hurricanes did when they turned their 2015 runners-up finish into a 2016 title.
"They'll go under the radar from a New Zealand point of view but I think they're going to be really tough to play in the end," Boyd said.