Breather likely for kiwi on high

NZ Newswire
11/07/2016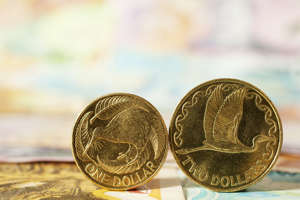 The New Zealand dollar's run to a 14-month high may take a breather this week as investors hold off from taking firm positions ahead of Chinese economic data due at the end of the week.
The kiwi traded at US72.78 cents at 5pm on Monday in Wellington from US72.92c at 8am and US73.04c on Friday in New York. The trade-weighted index fell to 77.68 from 77.90 last week.
New Zealand's currency was propelled to its highest level in 14 months after stronger than expected jobs growth in the US eased concerns the world's biggest economy may slip into recession, while tepid wage inflation kept investors pessimistic the Federal Reserve will hike interest rates this year.
With a number of Fed speakers scheduled for this week and Chinese economic and industrial production figures due on Friday, the kiwi is expected to stay in demand due to New Zealand's relatively high interest rates.
"There could be speed bumps at the end of the week, especially from China if we get weaker data which might signify a little bit of risk being taken off," said Stuart Ive, senior dealer foreign exchange at OMF.
"There still room for further gains in the kiwi - the next real resistance level is around 75 cents. I don't think we'll do that this week, but we could start inching a little higher."
On Monday, the kiwi fell to 96.19 Australian cents from A96.50c last week after Prime Minister Malcolm Turnbull declared victory in Australia's federal election, ending a week of uncertainty over the outcome.
The kiwi slipped to 4.8663 Chinese yuan from 4.8848 yuan last week and increased to 73.67 yen from 73.43 yen. The kiwi fell to 65.89 euro cents from 66.06c last week and dropped to 56.16 British pence from 56.37p.