Brexit vote about to get underway

NZ Newswire
22/06/2016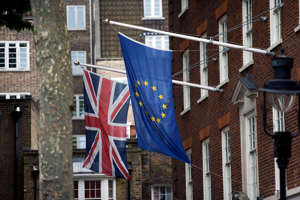 © AP Photo/Matt Dunham A European, right, and Union flags are displayed outside Europe House, the European Parliament's British offices, in London, Wednesday, June 22, 2016. Britain votes whether to stay in the European Union in a referendum on Thursday British voters are about to head to the polls to decide whether or not to remain in the European Union.
Even though the so-called Brexit vote is happening half a world away, if Britain does decide to leave the EU, there will be implications for New Zealand.
Back in April, on the sidelines of the nuclear security summit in Washington DC, Prime Minister John Key urged the UK to stay put.
"We certainly think it's a stronger position for Britain to be in Europe," he said at the time.
"We see Europe as an extremely important continent that needs strong leadership. We think Britain provides that leadership."
Mr Key went on to add: "If we had the equivalent of Europe on our doorstep, New Zealand as a country would be looking to join that. We certainly wouldn't be looking to leave it."
Earlier this week, the prime minister said officials are looking at what could happen if Britain does decide to leave the EU.
If the vote goes that way, Britain will have to remain in the EU for another two years, giving New Zealand time to adjust.
"Superficially it would affect things like, for instance, the free trade agreement we're negotiating with the EU, we'd obviously work on the migration issues and how those rules might work," Mr Key said.
He's not convinced that New Zealand's access to Britain could be enhanced if it leaves the EU, as some - including NZ First leader Winston Peters - have argued.
"In so much part of the driving motivation of the leave camp is about migration, it's hard to see them then, if they do leave, all of a sudden having a very welcoming policy on migration," Mr Key said.
Labour leader Andrew Little has said it's up to Britain to decide whether or not it should remain in the EU.
But he acknowledges there could be negative consequences for New Zealand if it loses one of its biggest allies in the EU.
The results of Britain's EU referendum should be known on Friday (NZ time).