Briscoe's profit up 25 per cent

NZ Newswire
1/02/2017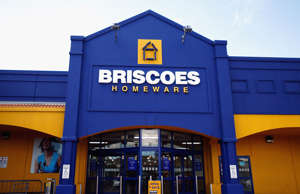 © Getty Briscoes' annual profit is expected to be up 25 per cent despite a slowdown in the fourth quarter as the retailer resisted its trademark discounting. Briscoe Group's profit rose about 25 per cent to $59 million in the last year as the household and sporting goods retailer resisted discounting to protect its gross margins.
Managing director and majority shareholder Rod Duke gave the guidance while releasing sales figures for the fourth quarter and full year.
Sales in the 52 weeks ended January 29 rose 5.4 per cent to $583m from $553m in the 53-week period a year earlier, the company said in a statement.
Homeware sales at its Briscoes chain rose 4.1 per cent to $373m while sporting goods sales through its Rebel Sport outlets gained 7.9 per cent to $210m.
Same-store sales rose 4.9 per cent, reflecting a 3.8 per cent gain at Briscoes and a 7 per cent increase at Rebel.
The figures show some slowing of momentum in the final quarter of the year.
That was because of one less week being included in the quarter, a slow start to the Christmas trading period and the late and inconsistent weather so far this summer, Mr Duke said.
"We made the decision early in the fourth quarter to protect gross profit and profitability by resisting the temptation to unnecessarily chase profitless sales".
Mr Duke, who owns about 78 per cent of the company, said its gross margin would still finish the financial year significantly ahead of last year.
Briscoe is scheduled to release its full-year audited results on March 14.
Its shares last traded at $4.08 and have gained 41 per cent in the past 12 months, outpacing a 14 per cent gain for the S&P/NZX 50 Index.