British boy, 4, dies in "tragic accident" on family holiday in Egypt as parents hail 'our little adventurer'

Mirror
24/04/2017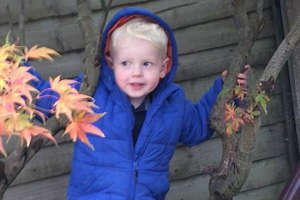 A four-year-old British boy has died in a "tragic accident " during a family holiday in Egypt.
Little Isaac Webster, from Warrington, lost his brave battle - after being 'critical on life support' - in Nile Hospital on Friday.
He is understood to have been on holiday in Hurghada, Egypt, with his mum Kelly, father Andy and brother Leo.
A JustGiving page has been set up to help the family pay to bring Isaac's body back to the UK and pay for funeral costs.
Mr Webster informed friends back in the UK of the tragic death via Facebook.
He posted a photograph of little Isaac playing climbing on a tree saying: "Our little adventure boy sadly passed away this morning at 10.15 UK time."
The day before he posted a picture of him playing in the garden, saying: "Me, Kelly and Leo want to say a huge thanks to everybody for their kind thoughts and prayers for Isaac. He's a fighter!"
Isaac's sister Millie had posted on Thursday: "Please take some time to think and pray for my gorgeous little brother Isaac who is critical and on life support in Egypt. I love you so much."
Numerous tributes to the football-loving lad have been posted on social media since news of Isaac's death emerged.
the JustGiving page has raised more than £5,000 so far to help the family bring Isaac home and provide additional financial support
The page says: "Isaac Webster from Warrington recently went on holiday abroad with his mum, dad and older brother Leo only to have a tragic accident whilst there.
"Despite putting up the best fight he could, sadly he lost his fight on Fri 21st April.
"Isaac's older brother Leo is a key member of our under 8's squad and young Isaac would support him from the sidelines.
"Isaac also had a love of football and was just as much a part of the Sankey Strikers Family as Leo and his family are.
"We're devastated to lose such a lively, loving and fun member of our family, yet can only imagine how much more pain Isaac's parents & brother must be going through.

"The least we can do as a family is offer some financial support to help cover costs of bringing young Isaac back home quickly, covering his funeral costs and provide some financial support for his parents monthly household bills until they're ready to return to work.
"Please donate whatever you can and encourage family and friends to support, so that we can support Isaac's family as quickly as possible."

Details of the 'tragic accident' are yet to be confirmed.