Broods land slot on James Corden show

NZ Newswire
5/05/2016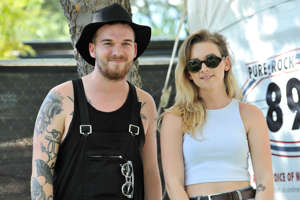 © Rob Grabowski/Invision/AP Georgia Nott and Caleb Nott of Broods seen at Lollapalooza at Grant Park on Friday, July 31, 2015, in Chicago, Illinois Kiwi brother and sister duo Broods will perform on The Late Late Show With James Corden in the US.
Georgia and Caleb Nott will perform their single Free on the British host's show.
There has not yet been talk of a carpool karaoke slot, though the siblings would no doubt kill it if Corden invited them along to sing tunes with him, as he has done with several artists including Aussie Sia.
The announcement comes on the same day Courtney Barnett revealed she will be performing Saturday Night Live. The Aussie singer will be playing on the finale of the 41st season of the comedy sketch show.
Broods' appearance comes just after they announced the upcoming release of their second album, Conscious. Free is the first single from the album which also features a track co-written with Lorde.
The pair also recently announced an Aussie tour, kicking off in Brisbane on July 8.
*Broods on The Late Late Show With James Corden will air on Wednesday, May 18.