Bruce keeps cricket focus simple

NZ Newswire
7/01/2017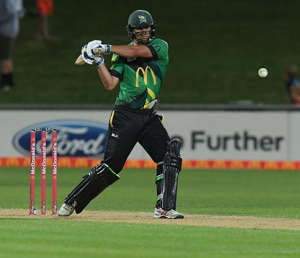 Black Caps Twenty20 rookie Tom Bruce is concentrating on keeping his focus simple after an impressive showing in Friday's 47-run win over Bangladesh.
Sunday's third and final Twenty20 in Mt Maunganui is as far ahead as the 25-year-old middle order batsman is willing to look.
Bruce combined with Colin Munro in a 123-run fourth-wicket partnership after New Zealand were teetering at 46-3 in the second T20 at Bay Oval.
Munro clubbed 101 off 54 balls, with Bruce contributing 59 off 39 as the Black Caps recovered to finish on 195-7.
Bruce also took over duties behind the stumps after regular keeper Luke Ronchi was sidelined with a groin injury early in the eighth over.
"If I just keep producing at domestic level, and at this T20 tomorrow, then that's all I can do," Bruce said.
"If I'm producing the goods, the rest will take care of itself."
Upcoming tours by Australia and South Africa provide extra incentive to keep delivering, and Bruce is keen to eventually push his claims at ODI and Test cricket level.
"Obviously I'd like to be playing all three formats, but at the same time I want to take care of tomorrow's game.
"If my performances are coming in domestic cricket as well, I'll be trying to push my case for further honours in different teams;" he said.
"Representing New Zealand is pretty special, and to do that in any format would be awesome."
Bruce's stint behind the stumps in Ronchi's absence caught coach Mike Hesson's eye, but it's not something the Central Districts batsman is too keen on repeating, with his experience limited to secondary schools level.
"I sort of bluffed my way into the gloves - I just said that I'd kept at Gillette Cup for a couple of games, I didn't tell them it was about seven years ago," Bruce said.
"I'd probably like it just to be a fleeting one-off, but at the same time if that sort of thing happens again and I'm in the side, then I guess I'll be chucked the gloves again.
"There's definitely nerves, but a lot of it's just excitement at being there and being presented that opportunity - you want to take it with both hands."