Bruised Currie to defend NZ Ironman 70.3

NZ Newswire
8/12/2016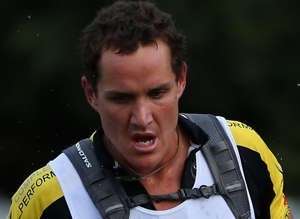 Braden Currie has emerged from a hairy road accident and declared himself fit to defend his New Zealand half ironman title in Taupo.
Currie crashed and slid in front of a car during a training ride near his home town of Wanaka last week, writing off his bike.
The cuts and bruises won't prevent him contesting the Ironman 70.3 event on Saturday which he won on debut last year.
"It's been a bit painful but while I have some scars, I will be on the start line for sure," Currie said.
A three-time Coast to Coast winner, the 30-year-old farmer made a quick transition to Ironman racing a year ago and even made a late but unsuccessful bid to qualify for Rio Olympics in triathlon.
While he was able to come in under the radar on debut, he will be a watched man on Saturday in a field which includes 12-time Ironman New Zealand champion Cameron Brown and a number of international athletes.
Currie says dipping his toes into triathlon, albeit briefly, has been beneficial.
"I am faster and improved as an athlete, and have learned so much that is making me more competitive."