Brumbies seek out refs boss

NZ Newswire
4/05/2016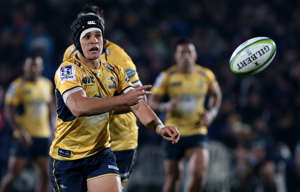 © Dianne Manson/Getty Images Matt Toomua of the Brumbies gets the ball away during the Super Rugby round ten match between the Highlanders and Brumbies at Rugby Park on April 30, 2016 in Invercargill, New Zealand Brumbies coach Stephen Larkham has had talks with Super Rugby's referees boss Lyndon Bray, unhappy with rule interpretations in recent losses.
He believes the Brumbies' great strength, their set-piece scoring platform, has been partially nullified by referees' focusing attention on the attacking team there.
The Brumbies have lost their early season mojo, scoring only nine tries in their last four games while conceding 15 since returning from their South Africa trip.
Preparing to face the Bulls at home on Friday, they are looking to turn around a run of four losses in their last six games which has dropped them behind the Melbourne Rebels and level on points with the NSW Waratahs in the Australian conference.
Larkham feels problems with refereeing interpretations were a big factor in the turnaround, after the Brumbies scored 19 tries while conceding just 10 over the first five rounds.
"Refereeing interpretations have been a major part of the results that we've had in the losses," Larkham said on Wednesday.
"We've been talking to the referees boss about that, and we've had a bit more focus on that this week."
Larkham conceded that while there were a few tweaks to make around how his side attacks, the bigger issue was earning what the Brumbies feel is due credit once scrum and lineout ascendancy is established.
"We build our game around quality set piece, and feel that we're not getting rewarded in that at the moment; that the referees are looking at the attacking team rather than the defending team.
"We've had a number of discussions this week, and hopefully we'll get a resolution out of that this weekend.
"There were a number of issues (in the loss to the Highlanders) on the weekend with interpretation that didn't allow us to scores tries from what has been a strength of our game."