Buckingham and Greenacre get Phoenix nod

NZ Newswire
1/01/2017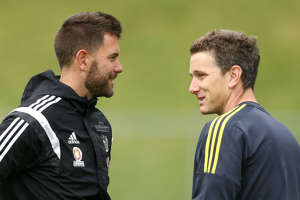 © Hagen Hopkins/Getty Images Interim coaches Des Buckingham and Chris Greenacre talk during a Wellington Phoenix A-League training session at Newtown Park on December 7, 2016 in Wellington, New Zealand. Des Buckingham and Chris Greenacre will coach the Wellington Phoenix for the remainder of the A-League season.
The pair took over when Ernie Merrick resigned four weeks ago, and have since guided the team to three draws and a win.
Under Football Federation Australia regulations Buckingham, who holds a Pro Licence, will be head coach.
Greenacre, a former striker with the club who has an A Licence, will be co-coach.
Buckingham said he was looking forward to the challenge.
"I still think this team is capable of making the top four which was our aim at the start of the season," he said.
"It is good that we have gone four games unbeaten, which I've been told hasn't happened since February 2015, but we could have won all three with a bit of luck."