Bullets return to NBL winners circle

NZ Newswire
22/10/2016
The Bullets have returned to their winning ways after a nail-biting 88-82 NBL victory over New Zealand Breakers in Brisbane.

The six-point win on Saturday night snapped a two-game losing streak for Brisbane and condemned the Breakers to their third defeat in four games.
American import Torrey Craig led the way for the hosts with 17 points and six rebounds, while Australian forward Cameron Bairstow chimed in with 14 points and six rebounds in his third game back from a dislocated shoulder.
Brisbane led by as many as 16 points during the contest, but the Breakers stepped up after halftime to create a tense final two quarters in front of 3000 fans at the Brisbane Convention Centre.
The Bullets overcame early jitters to take a 26-17 lead into quarter-time courtesy of a 19-2 run that blitzed the Breakers over a five-minute period.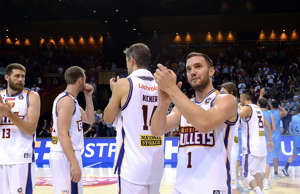 © Bradley Kanaris/Getty Images Adam Gibson of the Bullets and team mates celebrate their victory after the round three NBL match between the Brisbane Bullets and the New Zealand Breakers Brisbane kept grinding away in the second and outscored the Breakers by four, enabling them to cruise towards a 13-point advantage at the main break.

New Zealand made a bright start after halftime, chipping away at the Bullets' healthy lead to bring them within four points midway through the quarter.
The Breakers continued to ride a wave of momentum as the quarter wore on and levelled the scoreboard with two minutes remaining in the third, until the Bullets claimed a slender 64-63 lead before the final stretch.
A response was required by the home side and they delivered via Craig, who scored 10 fourth-quarter points that ultimately proved the catalyst for the Bullets' third win of the season.